2021 Events
June 6th at 2pm - Committee meeting followed by Tea on the Lawn and Raffle (bring your own cup)
June 24th - 29th Suntrecker Rally
June 26th - SWOC Midsummer Meal
July 3rd & 4th - VW Camper weekend
July 4th at 2pm - Committee meeting followed bt Tea on the Lawn and Raffle
July 16th - 18th - BN families weekend here at SWOC
August 1st at 2pm - Committee meeting followed by Tea on the Lawn and Raffle
August 5th - 10th - Suntrecker Rally
September 5th at 2pm - Committee meeting followed by Tea on the Lawn and Raffle
October 3rd - Committee meeting followed by Tea on the Lawn and Raffle
October 30th - End of season work day
Please contact us for more information
 All events above are subject to any covid restrictions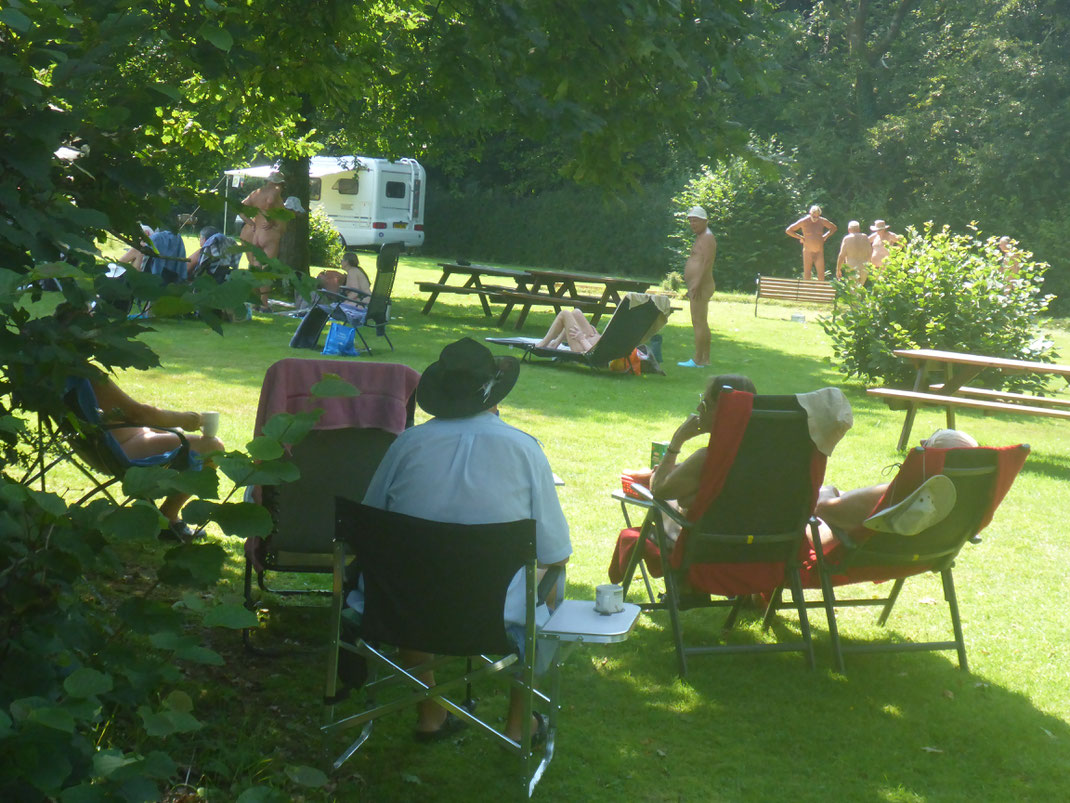 Teddy Bears Picnic
 A Lovely day was had at SWOC, with our own members and the Suntreckers, it was a lovely sunny day, and all the Teddy Bears came out to play
Christian Naturist Fellowship Rally at SWOC
SWOC, South Western Outdoor Club, hosted a rally for the Christian Naturist Fellowship(CNF) on Saturday June 29th, 2019. The speaker for the day was Nick Mayhew-Smith, talking about Celtic Christianity. The main activities were on the Saturday, and lunch and tea was provided on that day, we welcomed campers.  The event is for anyone interested in Christianity whether a member of CNF or not.
A great day was had by all, we hope to host this event again soon
What a great day we have had, today. Fabulous weather, wonderful company. Old acquaintance renewed and new friendships made. A very interesting talk from Nick Mayhew-Smith.😀 Christine

You and the SWOC community were absolutely lovely, Christine, thank you for a warm welcome and an extremely enjoyable weekend. Confirms once again to me that naturism and naturist clubs are about the people first and foremost. And the weather rather helped too...
 Nick
I'd echo all that Christine and Nick said above. I know these things take a lot of hard work to put on, and it is very much appreciated and it was very successful. Christine did more than her fair share, but her smile never faltered. It was a truly lovely weekend, so thanks again to all who made it possible.  Duncan
NATURIST VW CAMPER WEEKEND
at SWOC
20th & 21st July 2019
   On 20th and 21st July, we hosted what we believe to be the first event of its kind at a naturist club for naturists. The weekend is mainly for you VW enthusiasts to show off your vehicles, and exchange information and anecdotes. There may be a VW Jumble, and there will be a VW Quiz. There was a raffle with a number of VW themed prizes as well as the usual type. There was a communal barbecue on the Saturday, to which you are invited to contribute your own signature dish, and "Tea on the Lawn" on the Sunday afternoon. The cost of the weekend was £20 per pitch to include two nights camping, tea and other light refreshments. Extra nights of camping can be booked at £7 per pitch per night.
  we are hoping to host this event again in the near future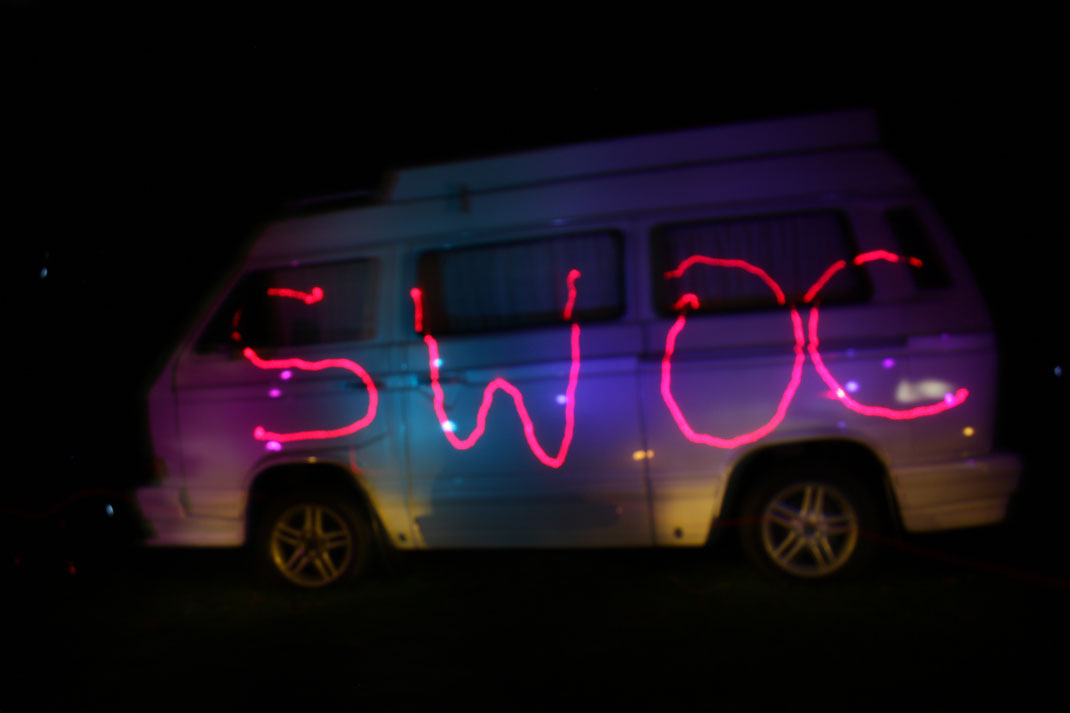 The numbers attending were not huge, as is quite common for the first event of a kind. However, the weather was better than expected, and much fun was had. Here is one of the drawings done as part of the quiz. The theme was "The fun or humorous side of Volkswagons"
August 3rd - Clubs visit
The gates to SWOC were wide open today for several hours. The reason? SWOC was entertaining members of several other (reasonably) local swim clubs and groups.  Some 45 or so members of Barton Swim, Wimborne Swim, Naked Swim, Larches Swim, and Quite Naturally came to SWOC and enjoyed a huge Ploughman's Lunch and sumptuous tea laid on by a group of SWOC members. Some have decided to camp at SWOC too. In addition some Dutch visitors enjoyed typical SWOC hospitality.
Even a short shower midway through the afternoon didn't cramp our style. It was great for SWOC members to renew former acquaintances and make new ones.
September 1st - Committee Meeting at 2pm followed by Tea on the Lawn and raffle
August 8th-13th - Suntreckers Rally
August 4th - Committee Meeting at 2pm followed by Tea on the Lawn and raffle
July 20th & 21st - Naturist VW Camper Weekend Rally here at SWOC.

July 7th - Committee Meeting at 2pm followed by Tea on the Lawn and raffle
June 29th - Christian Naturist Fellowship Rally

June 20th-25th - Suntreckers Rally
June 22nd - Midsummer Meal
June 23rd - Tea on the Lawn and raffle at 3pm
June 2nd - Committee Meeting at 2pm, followed by Tea on the Lawn and a raffle.
May 5th 2pm Committee meeting followed by Tea on the Lawn and Raffle.
April 25th-30th - Suntreckers Rally, including Tea on the Lawn on Sunday28th, at 3pm.
April 7th Committee Meeting at 2pm followed by Tea on the Lawn and raffle.
March 30th - Spring Cleaning/Working Day. Committee Meeting at 3pm.
---
---
---
---
---
---
---
---
---
---